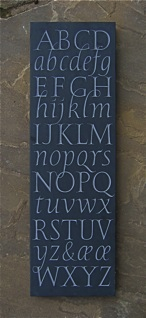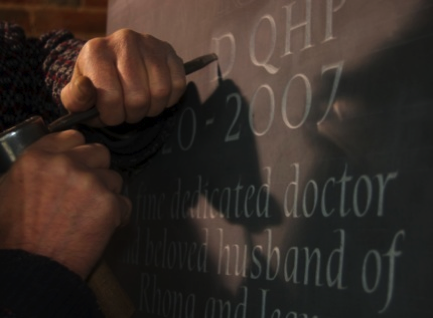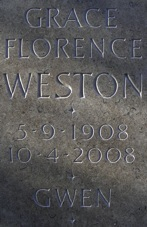 The design of the memorial is arrived at through a collaborative process of discussion and interpretation.  Once the wording has been decided then the design for the stone will begin. 
Full consideration is given to every commission I undertake as to functionality and design.  The process of commissioning is flexible and can be adapted to meet the timetable and other requirements of the client.  During the first meeting the client's own ideas about the design of the piece, whether sketchy or detailed, will be fully taken into account.  These ideas will be considered along with the choice of material, the size and style of lettering, and, should carving be required, the depth and style of the carving. Having completed this initial meeting I will produce a detailed drawing and an estimate. Then, assuming agreement at this point, I will apply for any permissions, should they be required, and order the materials.  I then produce a full size drawing and transfer this to the stone.  At this stage I will show the client how it looks, either by the client visiting the workshop or me emailing or posting photographs, and ask that they very carefully check all spellings and dates.  The client will of course be welcome to visit the workshop (by prior arrangement) at any time.  Once work in the workshop is completed I will fix the stone in its final place in accordance with all relevant regulations.
The lettering is always  hand cut and cut to a size that allows for the development of good shapes and well defined details; this requirement generally produces letters that are larger than those on machine made headstones.  The size of the lettering  is also determined, to a large extent, by the choice of material.  Slate being dense and fine grained allows the letters to be cut smaller but still retain their detail, in softer limestones, they need to be larger, to allow the detail to be cut, and to withstand weathering more effectively. 
The commissioning of and production of a hand cut memorial is necessarily a slow one. But it is this pace that allows for proper consideration to be given to the various stages of the process, and in the end, results in something that is satisfying appropriate, and lasting.